Andria was waiting on the steps when Winston and Vickie returned from Barnacle Bay. "How was your vacation?" she asked, a sly look in her eye.
"The diving there was beautiful," Vickie said. "I've never seen crystal caves like that…"
"And what about that boy of yours? Roderick is his name? Did you have fun with him?"
"Yeeeess… What are you getting at, Mom?"
"I just think he seems like a nice boy," Andria said. "Maybe the kind of boy to settle down with and, you know, give me some grandkids."
"Mom!" Vickie said. "That is way too personal!"
"I'm just not getting any younger," Andria said. "I thought you could use a reminder."
Vickie decided to go sailing for the rest of the day.
On the spur of the moment, Gamora called her dad and invited him to dinner. She and Sawyer didn't see each other nearly as much as they used to.
"It's nice to see you, but you don't have to eat food to keep me company," Sawyer said.
Gamora shrugged. "I like the irony of a plant chewing on meat."
Gamora caught up on Sawyer's genetic research, and she shared some carefully curated insights from the future. Neither of them brought up Gamora's mother Manisha or the asteroid that had strangely hit her house. Gamora had to admit that it felt good. Her father was the closest she really had to a loved one, and she was aware of that in a way she'd never been before.
"We should do this more often," she said as they got up to leave. "I want to know what the rainbow radiation does to your siminovium bacteria cultures."
Sawyer opened his mouth to share more bacteria trivia when a fanfare erupted on the patio.
"You played the lottery," Sawyer said. "And won?"
"I did!" Gamora crowed. "Isn't it amazing?" She looked very pleased with herself and not nearly surprised enough.
Sawyer, on the other hand, didn't look pleased at all.
"You did this with knowledge from the future!" he shouted at her. "Do you know what this could do to the space-time continuum? We could all dissolve into our component molecules? How dare you take that risk for some extra funding!"
"Oh that's just great!" Gamora shouted back. "Can you give me a little credit? How stupid do you think I am? When is the last time you solved a tachyon combustion equation anyway?"
"I don't do research that could blow up human lives," Sawyer snarled.
"You did with me!"
They stood there for a long moment, staring at each other. Gamora could tell that underneath Sawyer's scowl, her barb had hit home.
"I didn't grow you to hurt anyone," he said quietly. "I grew you because I wanted a child. A child who was just as special as I could make with science."
"Wait," she said. "I don't want to fight. It's not what you think."
Sawyer let out his breath with a whoosh. "If you give me more data, I can think something else."
"The future has already been contaminated," Gamora said. She couldn't bring herself to admit that it might be her fault. "I want to fix things, and the lottery is the first step. I wasn't even sure that I'd be able to use information from the current future to inform this present. This experiment proves that the rest of my plans should work."
Sawyer pondered this for a moment. "If what you say is true, it has enormous consequences to the Theory of the Immutability of Time Travel," he said. "I won't interfere with your scientific work, but I'd appreciate it if none of us die of time paradox."
"You won't," Gamora said. "I'm going to make sure of it."
Sawyer nodded. "1.5 million simoleons is a lot of money," he said.
Gamora grinned. "Yes. It's a lot more than I was expecting. With this kind of funding, I can expand my project."
She bade her father goodbye and jumped on her hoverboard to return to her lab. She thought about Sawyer and Manisha and Manisha's husband and their adopted kid. She heard Emit's accusatory voice and remembered the trash piled up in the polluted haze of the future. She wondered which exact choices she had made were the most important to this time stream.
If she'd been a different kind of person, perhaps one who placed more value on her impact on others, what might have gone differently?
She wondered.
Vickie ventured back to the house around dinnertime. She found Winston in the living room, ready to leave for an evening performance. He looked anything but psyched to perform.
"Still no word from Luisa?" she asked?
Winston shook his head. "She's not going to call," he said. "I don't know how I misread that whole situation. Why didn't she just say she wasn't into me? I thought… wow, I thought we really connected. I wish I knew what I did that drove her away."
"Maybe she didn't want to fight for your attention from all the other girls," Vickie tried to tease him, but the look on his face told her that was a bad call.
Winston scowled. "I'm not that much of a player," he said.
"I'm sorry," she said. "There's nothing wrong with you. I know you'll find someone, and she'll be lucky to have you for a boyfriend. Maybe… Luisa didn't think she could handle something long-distance, but she didn't want to wreck the moment when you were both having a such a good time. …Maybe she couldn't facing hurting you when she could see what a great guy you were."
Winston gave her a probing look. "Things are not going well with Rod, are they?" he asked.
Vickie cringed. "I didn't mean to make this conversation all about me."
"Here's to two wrecks on the love train."
Edmund waited patiently at the market until nearly midnight. The plaza was nearly deserted, save for a few sims who drifted in and out according to the theater's schedule.
Finally his quarry arrived.
Edmund placed a bookmark in his book and rose deliberately. "Anton Pierce!" he called across the plaza.
The other man looked around to see who was calling him. "That's my name," he growled. "Or so they tell me."
"You've troubled Avalon for more than three generations," Edmund said. "Your time is up."
Anton met Edmund's gaze with unnerving, luminescent eyes. "Oh. Now I understand. I heard of you and what you did to Marisella Flynn. I wondered when I would see you."
"I'm going to clean up this town, one vampire at a time," Edmund said. "Now is your turn."
Before Anton could react, he raised his hands.
Anton was caught mid-strike. Terror flashed across a face that had not shown fear in a very long time.
As the magic enveloped him, color returned to his deathly skin, and the glow in his eyes faded. He let out a surprised sound, half-grunt, half-growl.  "Yarrrrgh… that–"
"This feels amazing…"
"I– I never thought I'd be saying this," Anton stammered. "But thank you. I had forgotten what it was like to be alive. It's wonderful."
Edmund smiled. "I didn't expect to say this either, but you're welcome."
Anton took a deep breath, clearly relishing the air in his lungs.
Without another word, he got back into his car and drove away.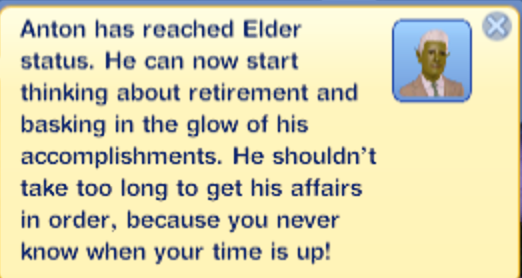 ---
Andria met Victoria at the front steps after her return from vacation travel to ask her for grandchildren. Way to go, mom. LOL.
The whole winning the lottery animation is bizzarre. You get showered with confetti and a gigantic check appears from nowhere. There are no other sims involved. There wasn't much of a way to build a story around that, so I just hung a lampshade on it.
Edmund is actually using the strong cure elixirs made by Andria to cure vampirism. Cure elixirs are supposed to apply to his Healer LTW. Unfortunately, it appears that the ONLY thing that applies to this wish is reversing transformation curses. Too bad. So out-of-story his doing a lot of transforming sims in and out of frog state.