Sigh. The Samples have really been living in this town for too long.
I looked at their family tree, and Aunt is a bit of a stretch, but they do have a connection a couple of generations back. We're going to forget we ever saw this.
I will say that the game DOES have incest checking, and it didn't think they were closely enough related to avoid heart-farts.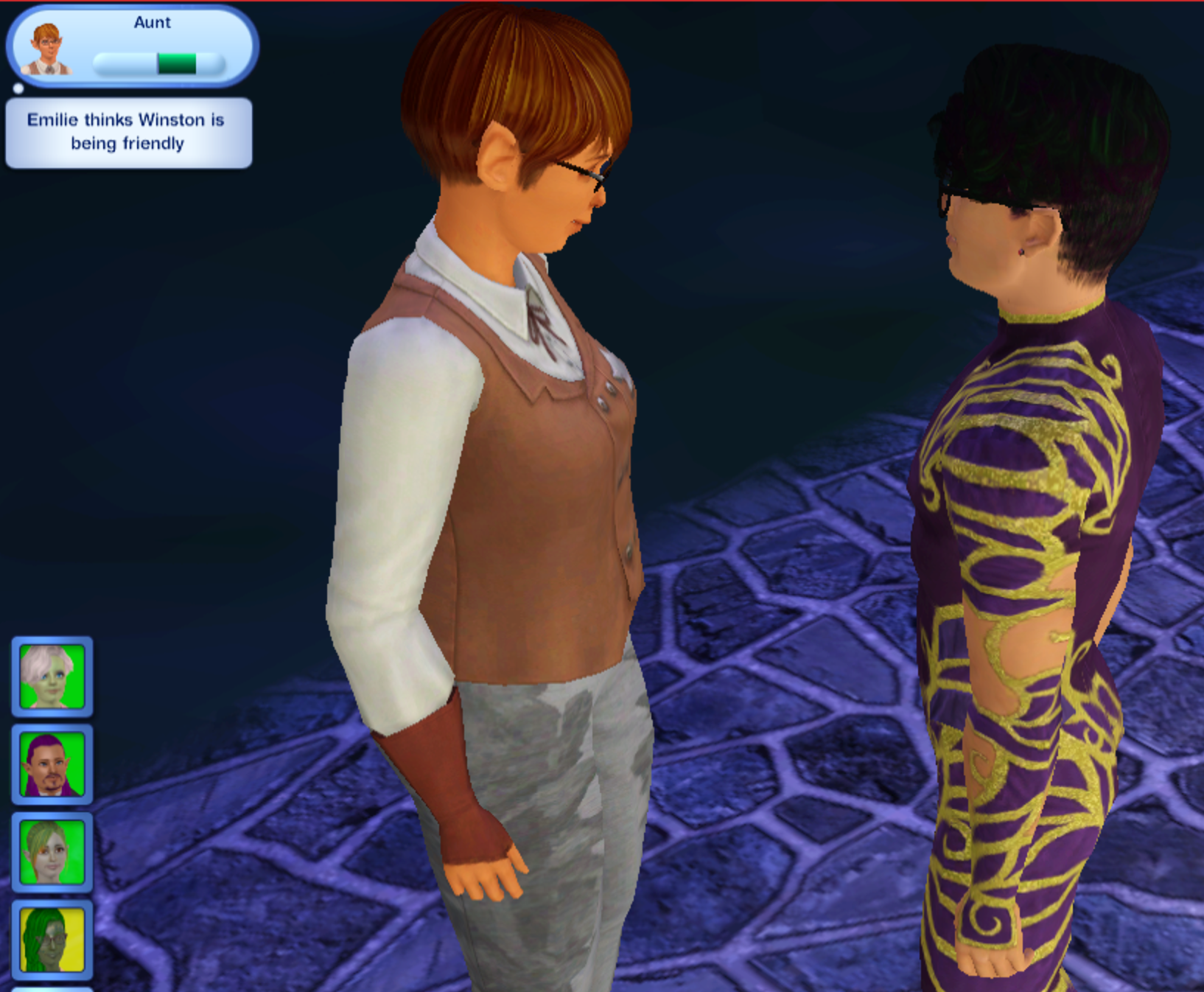 This is definitely the best way to hate each other. I'm pretty sure there's porn for the way Gamora and Jonah feel about each other. Lots of it.
Jonah went off to look at horses and came back by way of a LLAMA. The results were tragic.
Fortunately, Edmund was around to fix things up. I just now noticed Gamora playing on the computer behind them. Ha.
Also Vickie far behind, cooking. She took that up as a passionate new hobby when Jonah moved in, but you better look at it now because I later discovered that her ability to cook was borked. I I thought this might have been related to my Kelp Recipes, which I loaded into my game somwhere around then, and I was terrified that there was something weird about them that borked people's sims. But, no, I have multiple reports that the recipes work fine for other people. Vickie just now takes about 4x times the time to cook a recipe as she's supposed to. Like, literally most of a day to cook one dish. Each animation repeats over and over again. I have no idea.
I tried removing the Cooking skill using MasterController, but that doesn't seem to reset a sim to the state of not having learned a skill. It just removes a pointer to something. When she learned to cook again, the problem resumed.
So she's going to take up painting, I think, and Jonah can cook his own damn kelp.
At any rate, Jonah is ready for anything this weird landwalker magician might throw at him.
But it turned out all right.
Gamora discovers that she can't avoid her high school graduation, even by jumping into a time machine and zapping herself hundreds of years into the future.
Graduation will always come for you.
Emit had to take a break from his important moment with Gamora.
OK, the special philanthropist's money-donating animation is just completely bonkers. Can we just look at this again?
Oh, and after she gives the check, they both are showered in glitter.
Since I wanted to tie up this little loose end of Gamora's life, I saved JC Sample's family to the bin and placed him back in Utopia Oasis Landing. After all, nothing Gamora did should have affected the romantic choices of her immediate family, right? Right?
What I didn't realize is that Dystopian and Utopian sims keep their timeline-related behaviors in a hidden trait. JC's family immediately turned their lovely utopian home into a trash pile.
Emmett hugs himself. A lot of the Wonderland/Utopian sim idles are adorable, but the walk style is AWFUL. It's the same as the Imaginary Friend walk, and it must DIE BY FIRE. I had to take the Wonderland trait off Emmett so that he could walk across the room in less than four hours. If there's a way to just destroy the walk style and keep the rest of the cute stuff from that moodlet, please let me know.
Ah, the romances of our time are just part of a loop that repeats itself over and over through time.
Or maybe ITF doesn't try very hard when it generates descendants….