Skipping stones in Sims is a little bit magic. Here, the stone appears behind the hand that throws it.
This is why you don't swim around windsurfers.
The game had a lot of trouble tracking Vickie's snorkeling outfit.
And the mermaid outfit.
Some fellows never give up scuba diving, no matter what happens. (Note he died by drowning.)
Winston never quite got the point of sunbathing.
Housekeeping really hated these two.
Oh no! It's attack of the living surfers!
Fortunately, surfer zombies aren't terribly dangerous to anyone.
And speaking of harmless zombies,
All this fellow needed was a chance to drink and party, and he was just fine.
You might have seen him dancing in one of the nightclub pics. He definitely missed the point of being a zombie.
Avalon Gossip Column
Sam Pistachio finally moved on after her last two beaus died. Fortunately, old guys are now age-appropriate for her.

Emily was promoted back to resident for the fourth time. This seems to be her level of incompetence.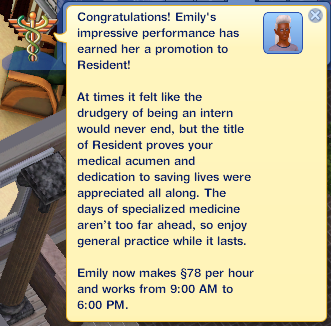 Manisha Kapoor-Baerwyn finally decided she should learn how to get along with people.
Jasper Crumplebottom gave birth to his girlfriend Fawn Rockwell's daughter. Her name is Caroline, and she is adorable.
Doesn't seem to be a lot of news at the moment, so there you are ;).