While Edmund is out getting his wrist knawed on, the camera rushes back to the home lot.
Somebody is dying! What the heck??
Actually, it turns out to be a stray dog who wandered in the front door. Fabulous.
So how come this dog has a blue ghost, and I didn't even manage to get Sky's dog Riddle enough happiness points to get past the red ghost? What was this dog doing in life?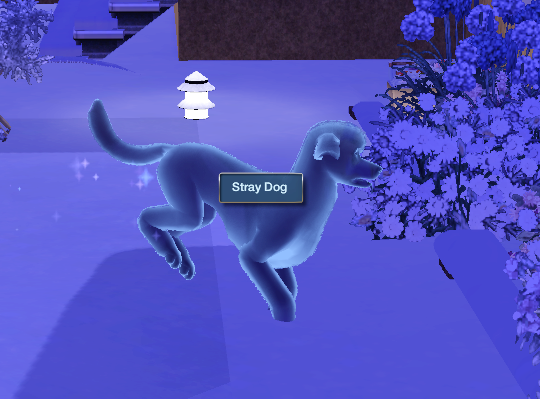 Dylan treated Grim with the utmost courtesy during his visit.
In fact, they really hit it off. They have a lot in common.
And here we have some kind of obscure failure of Icarus Allsorts' Call to Meal mod, which I usually swear by for fixing the traffic jam that accompanies large meals.
Most of the party-goers route failed on the way to the cake, so I had Dylan serve them with this mod. After he set all the available table seats, he carried the cake into the ocean.
And swam. And swam.
His destination seemed to be this uninhabited island, which isn't even on the lot.
I had to reset him. The poor cake was lost.
Avalon Gossip Column
Local C-list celebrity dirt bag Justin Mai has spent a generation filling up my notification queue with stories of refusing to pay his boyfriend, Abby's high school flame Dion Callender, child support for their three children. Dion's no pushover, either. Dion keeps reporting him to law enforcement. Justin has gone to jail twice for nonpayment.
And, at last, I got THIS notification

And after that he paid every time.
Way to keep up the fight, Dion.
Sawyer and Emily. Again.

New Sim-of-Interest Jake Paradis is now a professional athlete.

And Java Weaver is a… teacher? You know he's a Coward, right? This will not go well.
Forest's current boyfriend may be in for some serious trouble. "At his throat" may not be a euphemism….

Abby's brother Stanley is a father for the third time! His partner is Jody Ursine-Sample, many-generation descendant of Adjo and Toya. Woo. They are living together but show no sign of tying the knot. Jody is a Showtime Magician. Maybe he prefers to stay unmarried for the sake of his performance career.

Sean Flynn stages his fourth or fifth coup attempt against Forest. It fails. Again. Maybe he should just give it up.

And this included just because it gave me the giggles. I think Java should probably not take off hi shirt.